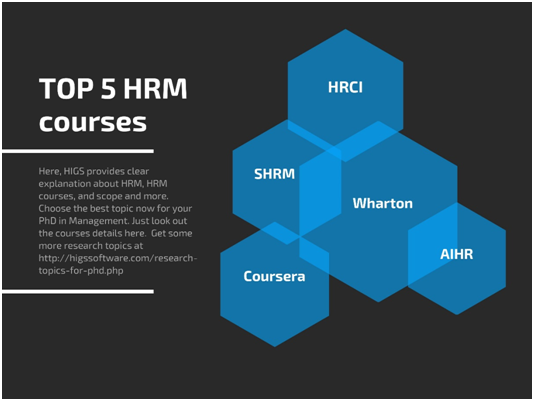 Here, we have listed some top 5 courses for Human resource management. They are;
AIHR- People analytics courses:
The Academy to Innovate HR (AIHR) provides globally accredited online HR courses that allowHR professionals to work on real-time- projects and case studies. If you prefer AIHR, it will offer some great things for you like,
- How to identify which people-related challenges are a priority
- How to align people analytics with the overall business strategy?
- It is to understand how strategic workforce planning can be integrated with your people analytic strategy.
Coursera- Human resource management
Coursera provides 100% online learning from the world's best universities and companies. The program encompasses a module that considers alternatemethods for managing human resources, and modules on hiring, assessing, and rewarding employees.
HRCI- Senior Professional in Human resources
HRCI is an independent non-profit organization and dedicated to advancing HR profession by developing and administeringthe best-in-class accredited certifications.
SHRM- Senior certified professional (SHRM-SCP)
If you successfully finish the HRM course, then you are a professional who knows,
- How to form up strategies?
- How to lead the HR function?
- Foster influence in the community?
- How to analyze performance metrics?
- How to Align HR strategies to organizational goals?
Wharton online- HR management and analytics
Wharton online is part of the Wharton University of Pennsylvania. Wharton Online courses are taught by the same world-renowned leaders who teach in Wharton's on-campus programs.
Wharton's online HR management and analytics program is a combination of theory with practical application. The main objective of this course is to give you a holistic view of strategic HR management that includes an overview of people analytics. You will be able to learn about the following things such as,
PhD in HRM
Here, HIGS plays an important role in PhD in HRM. We help you to finish your research project in a better way. We guide you from the beginning to the end.